good morning lovely people,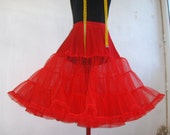 As you are most probably aware the world of internet blogging is full of kind and extremely generous people who run giveaways and competitions for all sorts of reasons, and some just cause they can. Well one such wonderful lady is Rosy, sewingadicta.com. For her birthday this year she ran a giveaway for a petticoat and I won. How lucky and as if this wasn't enough she didn't just send one over she had lying about she asked for my measurements and even what colour I wanted, I went for red, and shortly after it winging it's way over from Spain, it arrived and I was delighted, believe me it fits like a dream. But when you see what this lady sews you won't be surprised. I can't urge you enough to take a wander over to her blog page and look down the right hand side. She makes reproductions of dresses and outfits from the TV series like Mad Men and New Girl, all sorts of films, and they are great. You give her a picture and she can make it, she is very talented. As I said she is Spanish, but as she is such a lovely person she writes her blogs in English as well as Spanish, which is great for the likes of me who weren't so good at languages at school. Also she has an Etsy shop so if you want a petticoat of your own, you can have one, or a custom made dress. Go on now click the link and have a look.
http://www.sewingadicta.com
Well with a lovely new red petticoat, I obviously need a new poodle skirt and in time for Christmas too, I think.
Whilst browsing through the blogs I like I came upon this picture and knew instantly that I needed the white skirt with red trim at the back to go with my red petticoat. Perfect don't you think. The picture was on the vintage pattern files blog, and if you don't follow it I urge you to take a look at that too, as it is full of free, yes FREE, wonderful patterns for sewing, knitting, crocheting, anything vintage really.
This post has a link to Technicolour Cutie for a way of working out the cutting pattern for the a circle skirt, which involves a bit of a throw back to school days, do you remember pie: 3.14 ish.
Basically you take the waist divide by pie to get diameter and the half to get radius, but it does come with the excellent advice of cutting small first as you can always cut bigger later, but not the other way round. If none of this makes sense, I will be getting my white material by Thursday, so Thursday's blog will be showing you step by step how to make a circle skirt. If you can't wait go take a look there's a lot more detail in the blog link, I only copied a small section.
http://thevintagepatternfiles.blogspot.co.uk/2013/12/1950s-sewing-felt-circle-skirt-tutorial.html
Measurements
Waist divided by 3.14 = Diameter
Then Diameter divided by 2
Length: Measure your waist to desired length. You can measure your favorite skirt or dress under the waistband to the hem.
When in doubt cut smaller first. You can always go back and make the waist larger.
I don't know about you but I'm excited about it.
But other news, plastic is not strong! I know this as the hook I used on my bullet bra broke the other day, whilst I was wearing it! I bent down and ping! Fortunately I hadn't left the house yet and was able to change. This is useful really, as any problems with these bras needs to be with me not my customers, so I really do need to test these things out first.
There is limited give in a vintage bra, powernet had not been invented then, that's the stretchy stuff used in modern underwear, so the hook holding the bra together, and I want to use a hook rather than the modern hooks and eyes we have now, needs to be strong, and my plastic one only lasted about a month. I'm just glad I found out before I made a load.
Anyway after a fairly intensive internet trawl to find something that was still fairly cheap in the postage departed I have found some metal covered with plastic hooks, so they should be strong and still comfortable. I am still waiting for them to arrive though so I can't really update any more than that, but I think it's probably enough for a monday morning, there's a hat and bag set calling me now that I would really like to get finished today, so I'm off for now, don't forget poodle skirts on Thursday. Just how kitch can I make it with my daughter still being willing to stand next to me??? Well I can always wear it when she is not around.
love and hugs
ally x