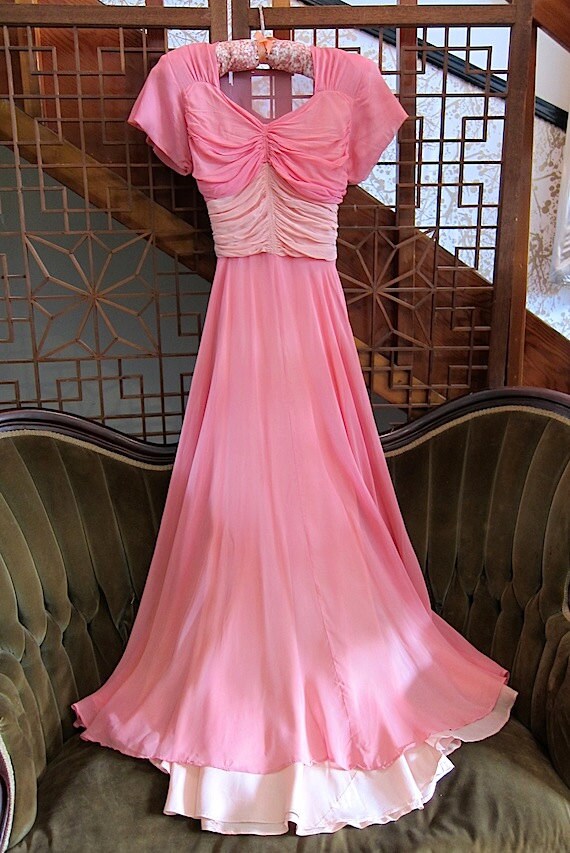 https://img0.etsystatic.com/
001/0/6266693/il_570xN.366366464_8pd2.jpg
Morning All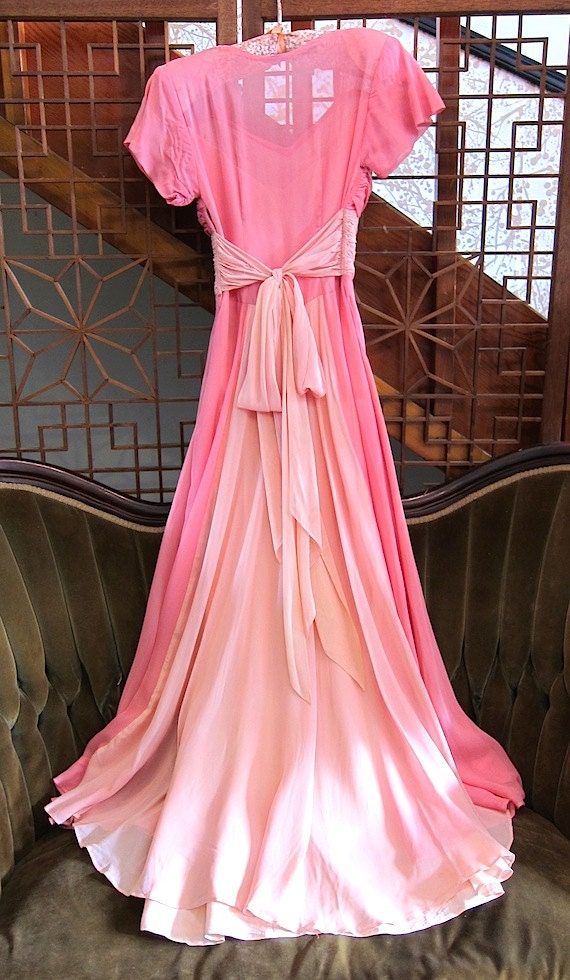 Well today is all about the third Historical Sewing Fortnight challenge which is entitled 'Pink' and I would love to say I had made a replica of this beautiful dress but sadly no. I found these pictures just too late to even consider it for this challenge, although I am tempted for sometime in the future. I really don't wear that much pink, could you see it in blue as a Cinderella dress for the fairytale challenge? Although that would mean doing the outfit I'd thought of for that in another challenge but that's alright.
So it's a pink hat today and I was thinking about Elsa Schiaparelli again as she, it is said, invented 'shocking pink' although how someone invents a colour I'm not sure. Slight problem with that too is that I don't have any shocking pink in the stash and I probably wouldn't wear a hat if it was based around that colour so we're in for a much more easy going version of pink and just about as pale as you can get. I picked a pattern from Evadress as I was ordering a dress for her competition anyway, may as well get two in the postage I say.
So here's the pattern:
My first decision was to attempt to make this hat reversible so effectively two hats; black outside or pink outside depending on my mood. This meant no hat band so there would need to be enough structure from somewhere else. I decided on buckram to line the brim and this could then double as a hat band but inside the material and not visible once sewn. The tie bits also needed to be on the outside so I had to have a way of moving them when changing the orientation.
Next was the crown of the hat, in this pattern this is a turban that can be sewn on its own for that 40's look, but I was after something earlier with the brim sitting higher on my head, so I made it for a slightly smaller head size. I cut the pattern from each coulor and the sewed them together (right sides facing) along the ties and the front area where the gathers were to be.
This caused a bit of a sulk and me to abandon the project for the night. Ready to go next day though I unpicked all that was left of the machine thread and gathered by hand.
Last stage was to attach the crown to the brim. The crown needed to encase the raw edges of the brim so I first machine sewed the black side on, this was a little tricky with the brim fully wired and rather large, but slow and carefully I got it on. Then I sewed the pink side down by hand turning under a small hem as I went.
Lastly there was then a gap at the front where the gathers sit that was still raw edges on the brim. So I unpicked the basting holding the two edges together and turned them both inside and sewed it back up.
At this stage I decided I quite liked it un tied too, but it was in need of something to cover the gathers.
And can I just apologies for the photos light pink and black are very hard to capture.
So Challenge details: